A learning management system is software used by companies to develop, distribute, and track training for their employees, clients, and partners.
Until recently, when the word "training" was heard, an instructor gave a speech in front of students about the classroom. And if we are talking about "corporate training", we are filming a big meeting or a one-day workshop.
What is LMS (Learning Management Systems)?
Learning Management System is a platform for digital learning. Its salient features can be seen in the abbreviation.
L – Learning. With LMS, you can create a single source of online courses and training materials. It becomes a unique source of knowledge in your area so that you can place and enhance the internal expertise of your organization.
M – Management. You can manage courses and learners and even improve your own ability.
Unlike file sharing services, LMS is not just a pile of files; In contrast, it is a well-organized system in which you conduct the training process. To start training, add employees and assign courses.
Have you recently hired some new employees?
Send them invitations to an onboarding training course. Enjoying low sales?
Ask your vendors to practice with virtual clients.
Thanks to features like calendar, you can not only train online but also assign and manage class sessions. Thus, an LMS is a must-have application designed specifically for e-learners.
S – System. The computer system, to be exact. LMS automates the most boring and laborious work such as grading, statistics processing, and report preparation. Additionally, you can train your employees without leaving the office, managing all processes from your work computer.
In other words, a Learning Management System is like your customized online university. The system allows you to store and create e-learning courses, provide access to content for learners, and assist you in evaluating results.
A Learning management system consists of two parts:
Admin interface where the training administrator handles major, back-office tasks to manage their organization's learning activities. This is where they create, manage and distribute courses, add practitioners, analyze reports, automate notifications, and more.
The user interface that works inside your browser (such as Gmail or Facebook). They see when practitioners join or are assigned to a course.
So, what exactly does LMS do?
LMS can help you:
Create: Create online lessons (or e-learning content as suggested in the industry). You can take individual lessons and turn them into courses.
Deliver: Assign, offer or sell those courses to employees, partners, customers or a wider audience.
Monitor: Register and manage your training audience. You can also track and evaluate their performance.
How LMS works
Once you have selected the best LMS for your training needs, it will be time to start building your learning environment. Before starting a training program, you usually take the following steps.
Create an e-learning course
In order to deliver your e-learning content, you must first add it to your LMS.
You can do this by creating your course content from scratch (ie, writing the content of your lessons within LMS) or adding existing content (Word document, PowerPoint presentation, Wikipedia articles, etc.).
Advanced LMS software such as MAQ LMS allows you to add course content from a variety of sources and in a variety of formats. You can include multimedia files (video, audio, graphics, etc.) in your lessons.
Another important feature of course creation is the easy inclusion of online assets (from YouTube videos and Wikipedia articles to online presentations and tweets) that allow you to influence the wealth of materials available online.
Organize your courses
The next step is to conduct your e-learning courses.
It can be as simple as offering a single course or as complex as using multiple courses for departments and student groups working in multiple disciplines.
It all depends on the requirements of your organization. The best LMSs allow you to design your e-learning courses the way you want.
In MAQLMS, for example, you can combine a set of organizational tools (courses, groups, categories, skills, branches, etc.) and you have the ultimate flexibility in how you deliver your lessons. It does not matter if you are a multinational or a small business with branches in 20 countries.
Deliver your courses
Once you have created and conducted your courses, you are ready to present them to your learners.
How you go about it depends on the needs and structure of your business.
For example, your courses are made for a limited audience – e.g., for employee training in your company. Or, they may be available to a wider audience as a free offering (like an NGO that teaches people specific skills in developing countries) or as paid courses (e.g., an online school that offers web programming courses).
A modern LMS should handle all of these cases so that you can serve and manage a small and large number of students, provide limited or open enrollment, and easily integrate the platform with payment gateways for paid courses.
The best LMS platforms should be able to cater to mobile devices with responsive user interfaces, touch-friendly interaction and offline access modes.
Key LMS features
Here are some key features that should be included in LMS: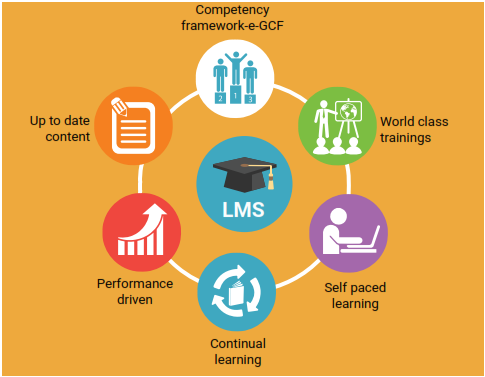 Artificial Intelligence (AI): An AI engine under the hood of an LMS helps to personalize the learning experience by providing each student with the best-fitting course formats and referring to courses with topics already completed. (We know the best company out there, so hit us).
Accessibility: Accessing e-learning rather than following the Web-Content Accessibility Guidelines (WCAG) 2.1. It's about developing learning content that creates the best learning environment for everyone, especially when most of us rely on online learning.
Automated admin tasks: Features that allow managers to automate repetitive/laborious tasks such as user grouping, group registration, inactivity, and new user population. Really, why don't you do it?
Platform integration: All-in-one shampoo and conditioner? Not great. All-in-one LMS platform? Amazing! There is no need to pay for different LMS platforms and there are some things that can be frustrating than operating multiple systems for different usage situations (internal/external, etc.). Platform integration means you can bring all your usage cases into a single LMS, saving you time, money, and unnecessary hassle.
Personalized Learning Ways: Having multiple learners and online courses at LMS can feel like heavy lifting, especially if you want to provide a more positive experience (and trust us, you definitely do). When different job roles overlap, some skill sets are shared and some courses are mandatory for all employees, so systematic learning routes allow you to run hassle-free entries.
Additionally, some offerings that feature AI as an LMS are easier and more convenient to learn as well as how Netflix and Spotify work. LMS begins to understand your students' preferences and keeps them on the right track. Personalized learning pathways facilitate travel between both administrators and learners because they can group the collection of courses in the LMS so that learners can learn a specific topic or program.
Intuitive user interface: If e-learning is not so easy to use, your people will not default to it – Turbo Tax or H&R Block without using tools like the last time you voluntarily decided to file your taxes in manual form? Yes, probably never.
A learning journey that is clear to understand is easy on the eyes and facilitates a coordinated flow between dashboards and course overview.
Intuitive user interfaces mean they are easy to use for administrators and learners. This allows them to spend more time learning how to use LMS and getting promoted.
Course Management: This is a very big issue (shout out to our administrators). You need to manage and manage course creation, categorize courses, register users and drag reports quickly so your administrators do not spend unnecessary time on tasks that can be done more automatically.
Automatic LMS course management in a central location (otherwise known as the Central Repository) where they can create courses, assign them, send notifications, change layouts, upload and manage course material, enroll users heavily, and configure advanced course settings. , And filter courses, channels, and learning plans (all without the hassle of an eight-hour workday).
Certification and retraining: LMS should allow for tracking and management of all certification and retraining activities (e.g., conducting repetitive training / continuing education/compliance programs).
Course and catalog management: The pulse of your learning programs, a learning management system is a central system that includes all e-learning courses and course content. Here, administrators can easily create and manage courses and course catalogs to provide more objective learning.
Content integration and interoperability: Learning management systems should support learning content packaged to interoperable standards, such as SCORM, AICC, and xAPI (formerly TINKEN).
Also Read: What is Automated Machine Learning and How it Works for Businesses?
Content Market (or Content Creation): This allows L&D administrators and their practitioners to access, browse, and purchase courses from content providers on their learning platform.
Gamification: Increase your learning engagement by allowing practitioners to earn points, badges, awards, etc. on all learning activities.
Integrations: Sync your company data with LMS, which allows third-party integrations and plug-ins with your salesforce CRM, video conferencing tools and other platforms.
Mobile learning: Learning management systems need to allow access to content on mobile devices. At this point it is necessary, there are no two ways about it. Learning content should be accessible anytime, anywhere, regardless of the device and if it is not, your programs will have less access for no good reason.
Multi-Domain: Create different platforms for your audience (i.e. customers or partners in expanded organization scenarios) by assigning customized items for each subdomain, including custom branding, from a central location.
Microlineering: Microlineering is learning sushi: bite-sized, digestible and awesome. Providing easily accessible, bite-sized learning content can help better focus the attention of younger learners and encourage learning when needed. For practitioners who are in the habit of running a simple Google search to get quick answers, this is the golden ticket!
Reporting: Numbers are not a lie! The ability to track and measure the impact that your learning programs have on your business is one of the important features that LMS should have. Your LMS should allow you to gain learning insights through customizable reports and dashboards that provide scales on learner performance.
Social Learning: If your company is like Docebo, your people love working together! Your LMS should support informal training activities to promote thought sharing and reflect the success of others. Your LMS should have features that promote collaboration, forums, peer mentorship, and knowledge curing.
White-labeling and branding customization: Immerse your learners in a unique e-learning platform and maintain brand consistency in your e-learning experience.
Globalization: Business does not stop when you leave your homeland. Learning must take place and be available everywhere for all learners. Therefore it is important to have LMS with extensive language localizations, domain management and global payment gateways for e-commerce.
Advantages of a learning management system
Learning management systems offer a wide range of benefits to customers, regardless of the type of organization management. For example, an LMS company saves time and money. Instead of having learners spend time from their day traveling and sitting through lessons or training, LMSs allow users to complete the course at the best time. In addition, the need for instructors, training days, training equipment, travel expenses and placement can reduce costs.
Other advantages of learning management systems are:
Progress Ability to monitor user progress and performance
Gee increased access to e-learning without geographical limitations
Training Ability to personalize online training and learning experience
L Ability to easily and efficiently update e-learning modules and operations
Training The ability to easily distribute training and learning materials online is being effectively distributed
Focus on the use of automation and more important activities that allow users to forget about tedious, repetitive tasks such as aut user‌ registration and certification delivery.
Finally, centralized learning is another major benefit offered by LMSes. This allows the organization to securely store and store all large data in one place. This allows practice instructors and administrators to more easily update and manage learning materials. It helps to produce effective training that is consistent throughout the organization. Furthermore, most LMSs have advanced encryption features that guarantee the security of data and content.
Types of learning management systems
Different types of LMS deployment options:
Cloud-based
Self-host
Desktop application
Mobile application
Cloud-based LMSs are hosted in the cloud and often follow the software (SASS) business model. Cloud-based LMS vendors take care to maintain the system and perform any technical updates or upgrades. Online users can access the system from anywhere, anytime using a username and password.
Users need to download software for self-hosted LMS. The self-hosted platform offers more creative control and customization, while users have to manage the system themselves and pay for frequent updates.
Desktop Application LMSs are installed on the user's desktop. However, the app can still be accessed on multiple devices.
Mobile application LMSes support mobile learning and are available anywhere and anytime via mobile devices. This platform expansion type allows users to engage and track their online learning activities on the go.